News & Events
Latest news from the centre
Raffle - TOP PRIZE £2000

Donate Online to New Horizons Mental Health & Well Being Resource Centre via the Big Give and you could win one of the following prizes:
1st prize – £2,000 cash, or a luxury holiday for two,
2nd prize – £1,000 cash,
3rd prize – £500 cash,
10 x runners' up prizes of £50.
The draw will be made on 9th August 2013. Tickets are £1 each and 96p from each of tickets go top us so support us and have a chance of winning one of the prizes. Good luck! 
Visit: https://secure.thebiggive.org.uk/charity/view/7043
New Horizons 2013 Away Day

Latest News
New Horizons 2013 Away Day
FRIDAY 19TH APRIL 2013 AT 'ELLIOTTS' in ABERDARE
9.30 AM -2 PM
COFFEE AT ELLIOTTS FROM 9 - 9.30 AM
BUFFET LUNCH 1-2PM
Please get in touch if you would like to attend
01685 881113
Download the poster here >>
2013 Newsletter out now

Our latest newsletter is out and ready to read click here to download or read it below.
New Horizons' Young Person's Support Project

The New Horizons mental health charity has received a vital funding boost from the Lloyds TSB Foundation for England and Wales for a young peoples' project.
The Rhondda Cynon Taff (RCT) based charity, has been awarded a grant of just over £7,000 for a pilot project to support young people living with mental health issues in the area.
New Horizons manages a range of resource and outreach centres throughout Rhondda Cynon Taff for people experiencing mental health or emotional wellbeing issues, and projects the positive image of people suffering mental health problems through challenging discrimination by means of education, outreach work, information and support services.
The grant will enable New Horizons to offer a six month pilot project from January-June 2013 at the Resource Centre in Aberdare to support young people (aged 18-25) who are living with mental health issues in RCT. The pilot project will offer 1:1 support using the Recovery Model, access to information, advice, counselling and training (including a Depression Busting course) and access to the internet cafe.
Gill Malpas, Chair of New Horizons, says: "New Horizons is really pleased to have received the funding from Lloyds TSB to develop this new service for young people which I know is desperately needed in this area".

Mike Lewis, Grant Manager for Wales at the Lloyds TSB Foundation for England and Wales, said, "New Horizons is a positive and well run charity helping disadvantaged young people across the Rhondda Cynon Taff area. The Foundation's focus is on supporting charities that are able to help people play fuller roles in their communities and New Horizons does just that."
If you are a youth organisation and are interested in working in partnership please contact the centre on 01685 881113 or download a referral from our website - www.newhorizons-mentalhealth.co.uk

If you are a young person aged 18 – 25 suffering from mental health issues in RCT and would like support please get in contact on 01685 881113
New Horizons, 16 Dean Street, Aberdare CF44 7BN
Archives
Depression - A Global Crisis
World Mental Health Week October 8th - 13th 2012

This year the World Mental Health Day theme is:' DEPRESSION A Global Public Health Concern'
Depression is a significant contributor to the global burden of disease and affects people in all communities across the world. Today, depression is estimated to affect 350 million people. The World Mental Health Survey conducted in 17 countries found that on average about 1 in 20 people reported having an episode of depression in the previous year. Depressive disorders often start at a young age; they reduce people's functioning and often are recurring. For these reasons, depression is the leading cause of disability worldwide in terms of total years lost due to disability. The demand for curbing depression and other mental health conditions is on the rise globally.
A recent World Health Assembly called on the World Health Organization and its member states to take action in this direction (WHO, 2012).
Developed by Marina Marcus, M. Taghi Yasamy, Mark van Ommeren, and Dan Chisholm, Shekhar Saxena WHO Department of Mental Health and Substance Abuse
Read More from the WFMH > Click here to download(PDF)
RCT World Mental Health Week October 8th - 13th 2012
To find out more about the RCT events please click here >>
Iwan runs the Cardiff Half 2012

Please support Iwan who is running the Cardiff half marathon for New Horizons.
You can help me raise money for New Horizons by visiting JustGiving.com
New Horizons Open Day
New Horizons Open day held on 16th August was a great success. Boyd Clack our patron gave an excellent speech in support of New Horizons, followed by a speech from Christine Chapman AM, The Mayor of RCT - Mayor Cllr Doug Williams, Dr Paul Davies - Assistant Director of Operations for Mental health and CAMHS - Cwm Taf Health Board and Theresa Campbell - President of the Soroptomist Internation(Aberdare District). mAfter the speeches Boyd Clack cut the cake and officially opened the centre. Everyone enjoyed and after tea and coffee were treated to a set from the music group.
To view the photographs from the day click here >>
Summer 2012 Newsletter
New Horizons Summer 2012 Newsletter is now available.
Click below to download
PDF (for web viewing)

Changes at New Horizons
Change of Address
From 1st June our new address for the office and the Cynon resource centre changed to 16 Dean Street, Aberdare CF44 7BN and our office address is now 16a Dean Street, Aberdare CF44 7BN. The telephone number is the same.
New service delivery
From April 2012 there have been important changes to our services. New Horizonsis now offering our service users an opportunity to develop their own Recovery Plan with appropriate support. The Recovery Plan aims to help monitor your progress, target areas for development and to maintain an active control of your lives. It will also aid us to monitor our progress and to keep us at the cusp of excellence in providing quality support for our members. The Plans also include details of what services our members can expect from New Horizons and help us to identify any gaps in services.
Spring 2012 Newsletter
Summer Newsletter will be availble during August.
New Horizons Spring 2012 Newsletter is now available.

Click below to download
PDF (for web viewing)
PDF (for printing)
Archive
Summer 2011
Click below to download
PDF (for web viewing)
PDF (for printing)
The New You Group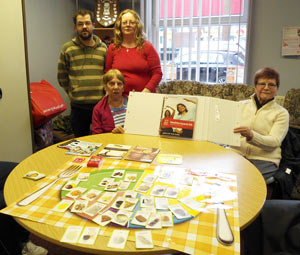 In New Horizons on Monday the 20th February the New You Group celebrated the National Heart Month by wearing red for the day and raising funds for the British Heart Foundation by learning to eat wisely.
Some members said about the group

" have learned that to eat the right food and take a slow walk for 30 minutes is good for me"

"I have recognized food labelling is helpful to me showing which foods are healthy for me to eat"

" I have learnt that smoking and drinking is not good for my heart and to avoid too much stress"
The New You Group meets every Monday 1.30pm - 3pm. Come and join our friendly group. Learn about fashion & have a chat. Speakers once a month, Days out, Meals out, Meals in...All new ideas are welcome. Come and have fun.
New Horizons' Apple Tree Stores - Visit of local MP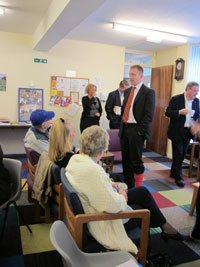 On Friday the 20th May 2011 the MP for the Rhondda Chris Bryant visited New Horizons' recently opened outreach project at Apple Tree Stores in Dinas. During his visit Mr Bryant showed a keen interest in the work that New Horizons is doing at the centre including providing support and information to adults experiencing mental health issues as well as signposting to partner organisations including CAB and Gofal.
The activities available at Apple Tree Stores currently include arts and crafts and music. A range of self-help courses in confidence re building and assertiveness training will also soon be up and running.
The Apple Tree Stores Centre is open on a Monday, Wednesday and Thursday from 9am-4pm and is located in front of the Miners' Rescue building.
There will be a very warm welcome for anyone experiencing mental health issues who would like to access this service.
Visit of Dr Chris Jones to New Horizons March 2011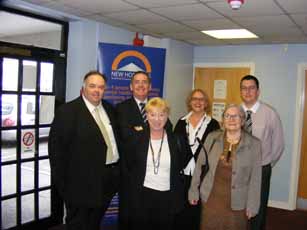 The Chair of Cwm Taf Local Health Board, Dr Chris Jones, visited New Horizons Mental Health Resource Centre in Aberdare on March 17th 2011.
The visit was to inform Dr Jones of the range of services that New Horizons currently offers to people who are experiencing mental health problems in RCT. The Chair (Mr Phil Gillard), Vice Chair (Mrs Gill Malpas) and trustee Mrs Delia Powell gave Dr Jones an overview of the services that the charity offers including opportunities to access -
• Training courses eg confidence rebuilding & stress management
• Advice and information from partner agencies eg CAB and Gofal,
• Volunteering with New Horizons and other community organisations
• Social and leisure activities
• Signposting to counselling from partner organisations
Dr Jones spoke to a number of service users who explained why they access New Horizons Services.
Mr Gillard explained that services are provided across RCT and on average fifty people a day use the services of New Horizons and confirmed that a new outreach project is about to open in the Rhondda - Apple Tree Stores in Dinas.
During the visit Dr Jones gave his ongoing support for the charity and stated that he would help the organisation where it may be feasible.
Gill Malpas said after the visit-
"Everyone was pleased to welcome Dr Chris Jones when he came to visit us at New Horizons on March 17th. We were all impressed with the interest and enthusiasm he showed toward our organisation.
He took a tour of the building, spoke to members about their involvement with New Horizons, and showed great interest in the music and art groups that were taking place whilst he was there.
Most impressive was his obvious passion and support for local charities, which made his visit both enjoyable and informative and which gives us reason to look forward to meeting with him again at some point in the future"

Apple Tree Stores Opened in Dinas
We have opened a new outreach service at Apple Tree Stores on 21 March 2011. It is open from 9.00am- 4.00pm every Monday, Wednesday and Thursday.
The project is in Dinas (by the Miners Rescue building on the A4058 Dinas Road). There is plenty of parking near by and the bus stops and Dinas train station is close by.
There is a warm welcome for anyone experiencing mental health issues at NEW HORIZONS. Apple Tree Stores offers a range of activities, access to resources, self- help groups and much more in a friendly and supportive environment. All are welcome at all time! Even if it's only to pop in for a cup of tea and a chat.
Events
Click here to view a calendar of events In RCT
Activities
New Horizons has a selection of news and event items, check out this section for up-to-date information.
Read more >